The Insider Fortunes Summit
With 35-Year Wall Street Veteran and Barron's No. 1 Ranked Money Manager Charles Mizrahi
TRANSCRIPT:
[Brian Hicks]
Hello, I'm Brian Hicks — founder and president of Angel Publishing.
I want to welcome you to our very first Insider Fortunes Summit.
Today, I'm honored to be sitting here with a Wall Street legend...
His name is Charles Mizrahi.
And he'll be sharing a secret with you about a market that Google, Apple, and Facebook are investing tens of billions of dollars in to capture.
A market that today is worth a little over $11 billion and in 10 years will be worth $7 trillion.
That's a growth rate of over 63,536%.
To call it the next big thing would be a gross understatement.
And the secret intel that Charles has about it came straight from the top.
Charles met with the expert in this emerging field: a world-renowned computer scientist with over 180 patents to his name.
Over the last year, he's had meetings with most of the titans in Silicon Valley. The tech world is beating a path to this man's door.
That's what Charles does when he wants to learn about something: He uses his inside connections to go straight to the top.
For instance, Charles' latest cancer research for investors involves a powerful new therapy.
But he didn't only go talk to some professor about it.
After researching it, he flew to meet Dr. Zelig Eshhar — the professor who invented the amazing new therapy.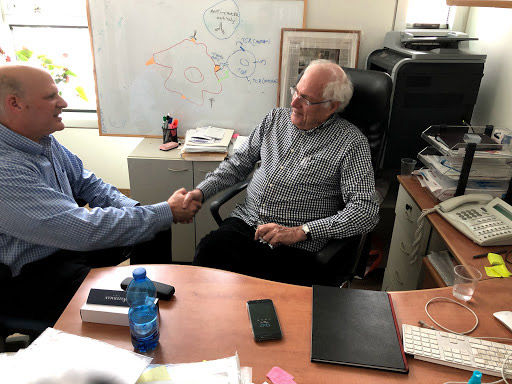 In fact, Dr. Eshhar recently made $73 million when the company that he was advising was acquired.
$73 million!
Charles spent three hours with him to pick his brain about the industry. And he got the intel that he needed to select an investment for his readers.
Charles did the very same thing to get the intel for his newest play, which I'm confident could change your future forever.
Because it gives you the chance to turn every $10,000 invested into $100,000.
But first, let me tell you why you should listen to Charles...
He's a true financial and investment guru. And I don't say that lightly.
I want to tell you exactly what it means to be a true guru...
First, it means that you have experience working on Wall Street and not as a clerk or an analyst...
But instead, as someone who's made contacts and connections at the highest level.
Because 95% of the so-called "experts" do not even meet this first criterion. In fact, most of them couldn't find Wall Street on a map.
Charles spent over 35 years on Wall Street and in New York City's world of finance.
At the tender age of 20, Charles was already an investment prodigy and worked as a trader on the floor of the New York Futures Exchange (NYFE).
And after conquering the trading pits, Charles didn't go on to work for some bank like most traders do.
Instead, Charles blazed his own trail...
He started his own money management firm where he regularly won many investment accolades. I'll tell you about those in a moment.
But that's the second thing you need to have done to be considered a guru...
You need to have invested clients' money.
Because let's face it...
Would you let a surgeon who's never touched a scalpel operate on you?
Would you ride in an airplane with a pilot who's never logged hundreds, if not thousands, of flying hours?
Of course you wouldn't!
But I've seen investors do exactly that — take advice from newsletter "experts" who've never made a trade in their lives or managed clients' money.
It reminds me of what Warren Buffett said about Wall Street: "[It] is the only place that people ride to in a Rolls Royce to get advice from those who take the subway."
Charles founded his own money management firm, Hampton Investors, in New York City at age 24.
Hampton's client roster included some of the biggest banks on Wall Street.
He managed money for the likes of Goldman Sachs, Citicorp, and Credit Suisse.
Charles managed a portfolio that was worth almost a quarter of a billion dollars, riding through market booms and busts.
For example...
On October 6, 1987, Charles moved all his clients' money out of stocks and into cash.
Two weeks later, the Dow Jones plummeted by a whopping 22% within a single day. This day would go down in history as "Black Monday."
He was one of the few advisors on Wall Street who saw the crash coming and saved his clients millions of dollars.
Charles' move was spot on.
And it was even featured in the Business section of the New York Times.
The New York Times wrote: "His indicators got clients out before the crash."
Charles has a knack for making timely calls, which have led to his great performance.
And that's the third thing you need to be a true guru: an outstanding track record.
While most so-called "experts" were still in Boy Scouts or waiting for their moms to pick them up from soccer practice...
Charles was being named the No. 1 market timer for seven straight years, not only on Wall Street but also in the entire U.S.
Seven straight years!
And that's based on the performance of his clients' actual accounts.
A few years later, Barron's ranked him as the No. 1 money manager in America for three straight years.
He destroyed the competition. He nailed down a one-year return of 113% and a three-year return of 313%, beating out the best on Wall Street.
Obviously, Charles' success attracted massive attention.
You may have seen Charles featured in Barron's, MarketWatch, the Wall Street Journal, and the New York Times...
Or you may have seen him speak on CNBC.
Charles recommended three stocks during his 2008 CNBC appearance.
They were Oracle, Microsoft, and Salesforce.
Since then, Oracle is up by more than 161%, Microsoft is up by more than 399%, and Salesforce is up by almost 934%:
That's around 1,494% in combined gains.
Good enough to turn every $10,000 you invested into in $137,000 profits!
He's been named one of MarketWatch's top 10 advisors over a full market cycle.
So, I don't have to tell you that Charles is a battle-hardened investor.
He invested his clients' money during Wall Street's most tumultuous times: the 1987 crash, the dotcom bubble, 9/11, the housing bust, and the 2008 financial crisis — the worst economic period since the Great Depression.
He not only survived but also thrived. That's what I mean when I describe him as a "guru."
And that's why he's a legend like no other.
Most of the other "experts" are nothing more than armchair warriors.
Charles is the equivalent of a Navy SEAL — the best of the best.
But with all his accolades, there's one thing about Charles that never ceases to amaze me...
And that's just how well-connected he is in the world of high finance.
I've been in the investment research industry for a long time — spanning three decades, in fact.
I've seen and heard it all.
But the more I find out about him, the more it blows my mind.
A few years ago, a friend of Charles who'd recently sold his business for $200 million had a business opportunity in China. Before investing a nickel in this new venture, he wanted Charles' opinion on the deal.
He flew Charles to Beijing for seven days — all expenses paid.
Charles met with government officials and researched the business. And after careful analysis, he told his friend to pass on the deal.
His friend was so grateful that he wrote Charles a big five-figure check for saving him millions. But Charles told him to donate it to charity.
I only found out about it because when I texted Charles to go to lunch, he told me he was "out of town." He knows how to be discrete. It's why his contacts trust him and will pay him so much for his time and insight.
And it's not just friends who seek out Charles' advice...
Charles and I were at lunch one day and were discussing the incredible growth of the discount brokerage business. I told Charles how much I liked being a customer of Charles Schwab.
Charles said to me, "Oh yeah, I met with Chuck Schwab when he was first starting his private wealth management division in the early 1990s. He picked my brain on how to grow the biz. My money management firm was one of the first to join his network of private wealth managers."
My jaw hit the floor.
Charles Schwab, the founder of one of the largest brokerage firms in America, came to Charles for advice on how to break into the wealth management market!
Today, that division manages over $200 billion in client assets.

And this is the kind of stuff that comes up in casual conversations with Charles.
He's had the pleasure of meeting and spending time with some of the world's best asset managers, like:
Don Yacktman, a money manager of over $30 billion. He's been named Morningstar's Manager of the Year.
Alan "Ace" Greenberg, the legendary trader and CEO of Bear Stearns.
Elie Genadry, president of Dreyfus mutual fund corporation. He grew Dreyfus' assets under management from $2 billion to $14 billion.
And many others...
But it's not just his connections to heavyweight investors that make him so valuable...
Charles has connections to experts in every single major industry.
He's spent the last three decades building up a Rolodex that's a who's who of business leaders.
His vast network of contacts never ceases to amaze me. It ranges from ultra-successful CEOs and scientists to world leaders.
For instance, I recently read the book Start-up Nation.
It's about Israel's amazing tech innovations. In fact, Israel is second to Silicon Valley when it comes to producing startups.
It's spawned billion-dollar companies like traffic app Waze, which Google bought for $1.3 billion, and automotive technology company Mobileye, which Intel acquired for $15 billion.
Charles told me that the man responsible for driving much of this incredible growth is Israeli Prime Minister Benjamin Netanyahu.
Charles even told me a joke that the prime minister told him at dinner a few years ago.
I had no idea that Charles was that well-connected.
And these are contacts that he's amassed over his three decades on Wall Street.
I only found out about them from my conversations with Charles. And I had to pry the details from him.
Most of these folks are private people. They prefer to stay anonymous, so Charles respects their privacy.
Unlike other so-called "experts," Charles doesn't have to tout his performance. They need to do that to make up for their lack of real-world experience.
Charles stays low key and under the radar. He lets his results speak for themselves.
He likes to quote basketball legend Michael Jordan: "Let your game speak."
And boy, does his game speak...
Charles has handed his readers some massive winners over the years, including:
551% on Huntington Ingalls Industries
458% on Atrion Corporation
501% on The TJX Companies, Inc.
233% on General Dynamics Corporation
243% on Raytheon Company
And that's just to name a few...
But these gains will pale in comparison to his latest play that he's revealing to you today.
It's quickly becoming the biggest investment opportunity of 2018 and beyond...
It will give everyone watching today the chance to bank gains of 500%, 1,000%, or more over the next 12 months.
At Angel Publishing, we have a knack for identifying blockbuster trends in their infancy — way before the typical investment crowd jumps in.
We were the first to inform readers about the Bakken in 2007 — back when no one imagined that North Dakota held more oil than any OPEC nation.
In fact, the first Bakken stock we ever recommended shot off for 579% gains.
We also started covering the legal weed realm long before the mainstream did.
Readers could have banked 2,014% gains on just one of the pot stocks that we recommended.
We even told our readers to buy cryptos in 2016 — back when nobody wanted them.
You could have scored 2,528% gains on Bitcoin...
And 1,040% gains on Ethereum.
But here's the thing...
This single idea from Charles could be bigger than all these gains COMBINED.
It's easily a $7 trillion opportunity.
And it's developing much faster than anyone realizes.
But the real reason I'm so confident about this play is because of the edge that Charles provides...
He's plugged into this market like nobody else in our industry.
No "analyst" or newsletter "expert" has the kind of intel that he does about this industry.
And you'll see exactly why over the next few minutes.
It's exciting...
And for everyday investors, it could be life-changing.
That's why I've convinced Charles to take part in this special summit for you today.
So, here's Mr. Charles Mizrahi...
[Charles Mizrahi]
Thank you, Brian, for that kind introduction.
I couldn't be more excited to have you joining me today.
I started my career on Wall Street back in 1983, on the trading floor of the NYFE.
At a time when most of the "experts" out there were still in diapers.
After spending some time trading at the exchange, I went on to found Hampton Investors — my money management firm, which I was also the chief investment officer (CIO) of.
Banks such as Goldman Sachs, Citicorp, and Credit Suisse ponied up my $1 million minimum to have me manage their money.
These firms are wealth managers in their own rights. But the fact remains that they chose me to manage many of their millions.
I managed a $200 million portfolio through some of the best and worst times in financial history.
I know how to make money. And most importantly, I know how to make others money.
But the most valuable thing of all is the relationships on Wall Street that I've developed throughout my three-decade career.
Having connections gives my readers an edge that you can't get from reading reports or financial statements.
Look, the real reason that a $1 billion hedge fund has an edge is because it can call up the CEO of a major company and have them in its office the next week to "grill" them and see if they sweat.
When I want to learn about a company, a technology, or a new investment, I make a few phone calls...
And in just a few hours, I can get information on it that the average investor could never get.
That's what throws the odds in my favor. And it's also why the Wall Street fat cats have an edge over everyone else.
And I'm not talking about insider trading...
I'm talking about having access to high-level information, which is what separates the big players from the little guys.
It's why I get invited to private closed-door conferences in New York City with the top hedge fund managers in the world.
Because of my access to successful asset managers, private equity managers, hedge fund managers, and other big players, I'm able to give my readers picks that you won't get anywhere else.
These are picks that have delivered raw returns of 4,015% to do-it-yourself investors just like you...
I don't chase the latest "hot stock" story or penny stocks. Those are for suckers.
I don't look at technical analyses, trend lines, or crystal balls...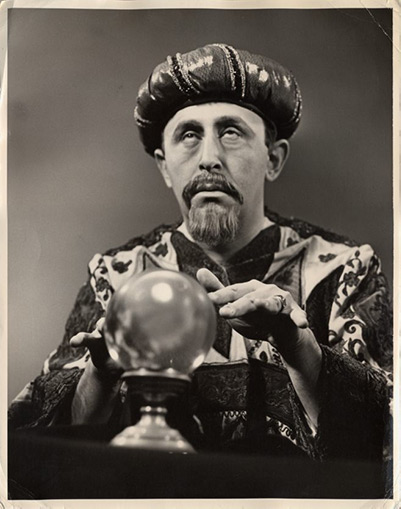 And I don't spend my time on complex options strategies.
The Forbes 400 list isn't filled with investors who followed those strategies, so why would you?
None of this really matters...
There are countless ways to lose money on Wall Street.
But only a few ways to make money.
In short, there are three different methods that I use to find investment ideas with the potential to deliver 500% returns or more.
Let me explain...
Method No. 1 is having access to ideas that the general investing public doesn't.

Because I have a network of Wall Street insiders that I've built relationships with for the past three decades, I have people whispering in my ear about which industry is starting to move.
Method No. 2 is having access to people working in those actual industries, like CEOs, executives, and business-owners.

After all, these are the people on the front lines. They know their industries better than any "analyst" could. And they see what's happening before everyone else does. I get priceless intel by speaking to the power brokers in my network.
Method No. 3 is connecting the dots.

Because of my 35 years of experience, I'm able to connect points that most "analysts" don't even know exist. And that helps me in finding the stories that Wall Street can't even see.
So, these are the three methods that I use for finding great investment ideas for my readers...
Often times, they'll converge on each other. And that's when you know you're on to something BIG, or what I like to call a "lollapalooza" event.
It's how I found our newest play that Brian told you about and that I'm sharing with you today.
But first, let me give you some examples of how I find these ideas that produce triple-digit profits for my readers...
Regardless of what the stock market or the broad economy does...
Case Study No. 1:
Huntington Ingalls Industries, Inc. (HII)
Back in 2012, I had coffee with a hedge fund analyst...
I'd known him since he'd graduated from the prestigious Wharton School of the University of Pennsylvania — a top-ranked business school in America.
He's a bright guy. He tried to work for me, but I told him that I don't hire analysts — I do all my own work.
But this is a guy whom the ordinary public would never have access to. You won't find him writing some article for Seeking Alpha or Forbes... Or even appearing on CNBC.
I know dozens of sharp guys like him in the hedge fund world.
So, every few months, the two of us meet for coffee. And in 2012, he told me that major defense contractor Northrop Grumman, a company that he's followed and knew like the back of his hand, had spun off its shipbuilding division.
Since it was a spin-off, it wasn't widely followed. And his fund couldn't invest in it because it had just started trading.
He told me "the business is a goldmine. It has virtually no competition. There's only one company building nuclear submarines in the U.S., and it's this one."
I went back to my office, rolled up my sleeves, did my own research, and everything he'd told me was dead on.
I also noticed that other Wall Street insiders were buying shares hand over fist and were building huge positions in the stock.
So, I quickly sent my readers a "Buy" alert. I advised them to buy Huntington Ingalls Industries (HII) at $38 per share:
I still have the stock in my open portfolio. It now trades for $250 a share, so we're up by more than 551%.
It turned every $10,000 into more than $65,000.
My point is that because I keep a close ear to my network of Wall Street insiders, I hear about situations that the average investor would never hear about.
I know where to look and who to listen to. And I give my readers access to unique, life-changing opportunities that you wouldn't find in the media or anywhere else.
Let me give you another example...
Case Study No. 2:
The TJX Companies, Inc. (TJX)

I have a friend, let's call him "Bob," who is the CEO of a chain of major department stores in the New York City tristate area.
People shop there for the thrill of hunting for bargains. The stores do very little advertising but still have a very loyal customer base.
Back in 2010, Bob and I were at a friend's wedding. We'd been seated at the same table.
Between the appetizer and the entrée, I asked him, "Bob, what's your No. 1 competitor that if you could put out of business, would make your life a whole lot better?"
Without a moment's pause, Bob replied, "The TJX Companies — hands down. When our team goes to buy closeout merchandise, we're always competing with it. Those guys are sharp."
That was all I needed to know to start my own research. I turned to my wife and asked about the off-price retailer. And she confirmed what Bob said: They have amazing bargains on brand-name items every day of the week.
I even went shopping with her at TJ Maxx, which is one of the subsidiaries owned by the company. I couldn't believe how long the line was at the cash registers. And this was right after the worst financial crisis in history!
America was still in the worst economic downturn since the Great Depression. But instead of tightening their wallets, shoppers lined up to spend their money at TJX stores.
Despite Amazon being out there and getting bigger, I wasn't concerned about it being a threat to this business.
Because Amazon can't replicate the thrill of the bargain hunt online.
In fact, this company was growing in the face of Amazon.
In August 2010, after spending a few weeks digesting all my research, I told my readers to buy TJX Companies (TJX) for a little less than $18 a share:
The stock is still in my open portfolio. It now trades for about $100 a share, so we're sitting on around 500% gains.
One of my readers, Craig H., wrote me a note: "I've made more than $100,000 on this stock."
This is why I always try to speak to the players in the industry. Because they're the ones on the front lines." They've got the information that you can't get from reading reports and SEC filings alone.
And it's not because they're smarter than you or me.
They're just more in tune with what's happening in the industry. They have their ears to the ground.
For instance, imagine that you own a bakery...
If the price of wheat increases, you'll know about it before everyone else does. You'll see it first with a higher flour price. And it's because that's your business.
So, by the time the news filters down to some analyst on Wall Street, or by the time you're hearing about it from some talking head on CNBC, it's already too late.
My point is that I don't just trust what I'm reading in a report like most "analysts" do.
I'll place a few phone calls and get to the source. I want to hear it straight from the horse's mouth.
And I heard it directly from Bob, the CEO of a major department store chain that I was talking about earlier. He told me what's really happening in the industry and what I needed to know to make an investment.
That's information you can't get from some "analyst" working at a bank. It's this kind of intelligence that you can only get from folks working inside the industry.
They're seeing things before everyone else does. It's priceless information.
And by the time the story gets out, it's already too late.
The so-called "analysts" on Wall Street miss the REAL story most of the time.
They usually see where the puck has been — not where it's going.
Here's an example...
Case Study No. 3:
Microsoft Corporation (MSFT)
Let me share with you what Microsoft looked like back in 2011...
Microsoft's operating system (OS), Windows, was the key sales driver for the company.
It ran on 90% of PCs in the world.
But due to the rise of smartphones, such as iPhones and Androids, its market share was falling.
"Microsoft's monopoly over personal computing has evaporated," said Forbes.
Seeking Alpha even wrote that "Microsoft Stock Is Dead Money."
But Wall Street had been missing the real story...
Microsoft was making the switch to the cloud. Subscription-based services would be delivered over the internet.
This meant no more going to the store to buy a shrink-wrapped box version. The profit margins would be HUGE.
I told my readers to buy Microsoft (MSFT) on May 17, 2011, for around $20 a share:
Today, the stock trades for about $110 a share, so we're up by about 440%!
Again, Wall Street focused on the wrong story. It was too focused on Windows' falling market share — where the puck was instead of where the puck was going.
It failed to see that Microsoft was moving its services to the cloud. This was a move that led to higher profits...
Because of my 35 years in the business, I know how to find the stories that Wall Street is missing. I know what questions to ask.
And most importantly, I know whom to ask.
Let me give you an example...
Case Study No. 4:
Biotech Breakthrough Leads to Private, High-Level Meeting
I began to do investment research on a radical new type of cancer therapy — a treatment known as chimeric antigen receptor (CAR)-T cell therapy.
This treatment is having successful results in early-stage clinical trials.
For instance, it cured former President Jimmy Carter of stage 4 melanoma that had spread to his brain.
And it cured him within four months!
This new technology could generate tens of billions of dollars for the companies licensing it.
But I didn't just seek out some professor to get intel about where the industry is headed.
I got a meeting with the world-class professor who invented this breakthrough cancer therapy.
His name is Dr. Zelig Eshhar.
In fact, he recently made $73 million when Kite Pharma was acquired for $11 billion. Dr. Eshhar had sat on their advisory board.
I flew 11 hours from New York City to Tel Aviv, Israel, to meet with him at his lab.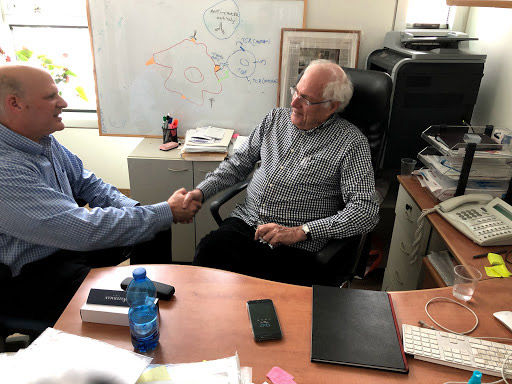 In fact, there's even SERIOUS talk of him winning the Nobel Prize in physiology or medicine.
As you can imagine, he's an incredibly busy man. I would've been happy with a 15-minute meeting. But we hit it off!
I spoke with Dr. Eshhar for over three hours.
And he gave me guidance on where the industry is headed.
And based on his intel, I recommended a stock to my subscribers...
I can't give you the name of the company because that wouldn't be fair to my subscribers.
In fact, reader Linda B. says, "I made a big profit on [this stock]... About $20,000."
But I bring up this story to show you what the difference is between me and every other "guru" out there...
I just have to make a few phone calls, and in a matter of time...
I'm sitting face to face with the inventor of the technology...
Hearing about it directly from the source!
After all, it's so different to learn about something from a big player like a CEO or a professor.
You're getting a much different view from them than you'd get from a report or anywhere else.
This is the kind of information that main street investors can't and never will get.
And that's what makes it so much harder for everyday investors and a slam dunk for the fat cats on Wall Street.
Because of my relationships, I can get these high-level meetings. I can get face time with big players that most folks on Wall Street would kill for.
It's intel like this that can throw the odds wildly in your favor.
And that's something you can't put a price on.
This leads us to the opportunity that I want to bring to your attention today.
Let me explain...
The $7 Trillion Secret
Recently, I began hearing whispers about an exciting new technology...
I started hearing how Apple, Facebook, and IBM were quietly pouring billions of dollars into it.
And even though it's only worth just shy of $11 billion today...
It's estimated that within the next decade, it'll become a $7 trillion industry.
But I wanted to hear about this emerging technology from a reliable source...
I wanted to talk to the "guru's guru" of this new technology that has Apple CEO Tim Cook saying it's going to "change everything."
It took no more than two phone calls, but I got the meeting with him.
And I boarded the next flight to meet him at his office.
The man is a 76-year-old Ph.D. holder with over 180 patents in this field.
One of his patents alone generates over $100 million in revenue per year for a large Fortune 500 company.
Out of respect for his privacy, I'm going to call him "Professor X."
He's a computer scientist who's founded four high-tech companies.
Oracle, the largest software company in the world, acquired one of his firms back in 2009.
I walked into his "office" — it was a cubicle that fit four people.
It was in the seedy side of town in a coworking office space.
But I learned long ago to NEVER judge a business by its office...
Jeff Bezos started Amazon in an office smaller than this one, and it's now worth over $900 billion...
Jeff Bezos starting Amazon in 1995.
And has returned 50,000% to its investors.
So, when I first met Professor X., he had a droopy mustache, his pants didn't match his shirt, and he hadn't tied his shoelaces.
He looked like the typical absentminded professor that you see in cartoons. But as soon as he started to talk, I'd known why the tech world had been lining up to see him.
Within one hour, he explained the technology, the business, and the amazing opportunity.
And that's the sign of a real genius: taking something that is complex and making it simple.
After that hour, I clearly understood why Apple, Facebook, Google, and IBM are investing tens of billions of dollars to capture this blooming $7 trillion market...
Because it will change everything.
I'm talking about how you work, play, travel, and learn...
The potential applications are limitless.
Within an hour, I got what I came for — precious intel that I could have NEVER gotten from reading industry publications or research reports written by "analysts."
And it's all because I sat face to face with Professor X...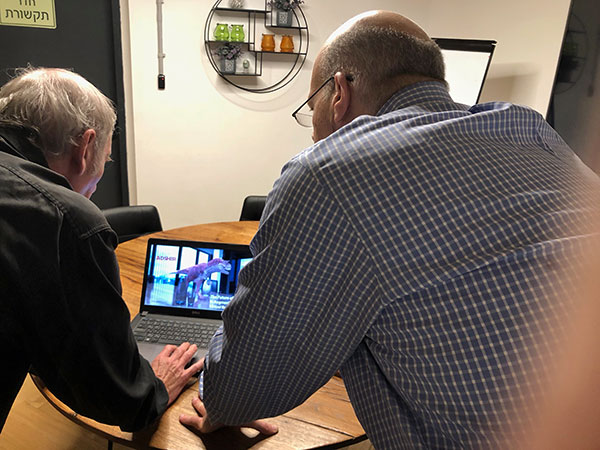 A man with over 180 patents to his name in this field and who told me how the technology would be evolving within the next 12 to 36 months and also how to capitalize on it.
His insight led me to a tiny company that holds the key to mass adoption of this unique technology.
Huge companies, from Coca-Cola to Walmart, are adapting this new technology for a variety of applications.
And this one company is at the epicenter of this tremendous growth.
Because Wall Street fails to see the potential for this industry, this company is trading at a bargain price for now.
So, that's why I've put together an in-depth research report that details the situation in full...
It's called "The $7 Trillion Secret."
I want to send this urgent report to anyone who's interested in learning about this opportunity.
But it won't be fair to current subscribers to just give my research away...
That's why I'd like to personally invite our viewers to join my private research service, called Charles Mizrahi's Insider Alert.
And anyone who joins today will receive this free report: "The $7 Trillion Secret."
The report explains the details of the small American firm that holds the key to capturing a $7 trillion industry.
It includes the name of the company, the ticker symbol, and my recommended "Buy" price.
I can't stress this enough: This is intel that 99.99% of investors don't have about this exploding market...
Intel that could make the difference between living a mediocre retirement or having the freedom to do whatever you want, whenever you want.
And it's this kind of deep high-level research that readers can only get from me...
Not from the financial media...
Not from annual reports...
Not from "analysts" at some bank...
And not from brokers, financial advisors, and certainly not from "experts."
Insider Alert is where I share all my exclusive market intelligence and picks with readers like you.
Instead of looking at Wall Street's ratings, listening to the media, or watching technical indicators — basically what everyone else is doing...
I pull out my Rolodex and call the top executives I've met and industry insiders. Meaning, high-level folks that I can reach out to at a moment's notice to accelerate my analysis.
All this goes toward one goal: to determine if a stock has what it takes to make it into my Insider Alert research service.
Each month, I issue one to three brand-new trade alerts via email.
I'll tell you when to buy and when to sell.
And I'll provide ongoing commentary on each of our positions in my weekly updates...
I've gone on runs where I've picked as many as 36 stocks in a row that have gone up by 50% or more.
I've gone as long as two entire years of active investing without a single losing position.
In total, my stock-picking method has generated massive raw returns of 4,015% for my readers.
And all without shorting, without margin, without options or any of that other risky business.
Remember, when you get Insider Alert, you'll gain access to me and all my exclusive insights and contacts that I have from over 35 years on Wall Street as a floor trader, money manager, and hedge fund manager.
So, I'm looking for serious folks only. You have to ask yourself: How much would it be worth to me to put Charles into my Rolodex? Because that's essentially what you'd be doing.
But I'm backing up my research with a best-in-class performance guarantee.
To be crystal clear: If I don't give you the chance to close a minimum of 10 winning trades over the next 12 months, just let my team know, and we'll give you a second year of Insider Alert — free of charge...
CHARLES' GUARANTEE
If my track record doesn't give you the chance to close a minimum of 10 winning trades over the next 12 months, just let my team know, and we'll give you a second year of Insider Alert — free of charge.
In other words, we're fully covering the cost of your subscription.
That's how confident I am at finding winning stocks over and over again — in any kind of market.
And you can start with this explosive play from my meeting with Professor X...
A world-renowned computer scientist with over 180 patents in this field.
He knows exactly where this potential trillion-dollar industry is headed and how to make a fortune from it.
If you were to make one technology investment within the next decade, this company should be it.
Based on my experience, this stock has the makings of a tenbagger written all over it...
[Brian Hicks]
Wow! That's some exciting stuff, Charles.
See, I told you that Charles is the real deal!
As long as I've known Charles, he's under promised and always over delivered. So, I wouldn't be surprised to see this stock rise by many multiples.
As one of Wall Street's most successful money managers with over 35 years experience...
He's constantly leveraging his sources. So, he almost always gets a jump start on finding the big opportunities before they become mainstream.
It's how he's been able to find home runs, like Microsoft, when the media and the market are completely against them. Or when nobody's even looking at them, like Huntington Ingalls.
He's a master at finding the story that Wall Street's missing. He connects points that I don't even know to look for.
Charles has high-level access to every sector in the market and research that few people in the world have.
It took Charles over three decades to build his Rolodex of elite contacts.
It includes billion-dollar hedge fund managers, asset managers, and business and world leaders.
It's the key to his unrivaled success in the markets.
Because of his network of insiders, he's able to get the kind of intel that no "analyst" can.
He connects with the right people to talk to.
And more importantly, he gets the meetings with high-level people.
All he has to do is pick up his phone.
And that is why you can't win on Wall Street on your own: Guys like Charles have stacked the deck. You're either on the outside trying to get in or you're on the inside with Charles.
By partnering with him, you'll gain access to the same network of insiders that he's built over the past 35 years.
It's why the CEO of a public company takes his call, while most folks can't get past the secretary.
And now, you can tap into all of Charles' elite contacts and connections through his Insider Alert research service.
As you've seen, the gains possible from the companies that Charles recommends can be phenomenal.
Just to add a few more to the list, if you'd been with him for just the past few years, you'd have booked gains of:
251% on Buckle
194% on HCC Insurance Holdings
188% on Daktronics
176% on Coach
173% on Ross Stores
The fact is, you won't find anyone as plugged-in to the world of high-level finance as Charles is. And is able to translate that intel into big profits.
Most "experts" in this business have never made a single trade in their entire lives, let alone worked on Wall Street.
Charles is the real deal. He built a $200 million money management business from scratch. His clients included the biggest banks on Wall Street. And Barron's has ranked him as America's No. 1 money manager.
I challenge you to find an "expert" that even comes close to Charles' background or track record.
It's why folks in the know, like venture capitalist James Altucher, best-selling author Timothy Vick, and Chief Financial Officer (CFO) Dan Knapp, all sing Charles' praises...
According to hedge fund manager, venture capitalist, and best-selling author James Altucher:
"Charles Mizrahi knows how to take the most boring stocks in the world, dress them up with his strategy, and turn them into stock market super stars."
Timothy Vick, the best-selling author of How to Pick Stocks Like Warren Buffett and the senior portfolio manager of Sanibel Captiva Trust Company, says:
"You can't say enough about Charles Mizrahi's strategy. It pays off handsomely."
And Dan Knapp, the CFO of a $400 million company, says:
Charles... Ninety percent of my portfolio is strictly in line with your picks. I speculate with the other 10%... but mostly, my retirement is in your hands so thanks for your excellent work. I hope you have no intentions of retiring yourself anytime soon.
As soon as you claim your spot, you'll get a confirmation email with access codes to the members-only website.
That's where you'll find the report that Charles mentioned...
"The $7 Trillion Secret."
You'll start receiving detailed updates every week on the companies in his portfolio and his market commentary.
And you'll get his latest Insider Alerts, which detail the most recent companies that he recommends.
So, how much does a membership to Insider Alert cost?
People pay a lot of money for face time with Charles. Like the friend of his who wanted Charles' advice on a business deal in China.
He wrote Charles a five-figure check just for his opinion on the deal because he knows that Charles' time is extremely valuable. It's even tough for me to get time with him.
A one-year membership to Insider Alert costs $3,000.
I consider that to be an absolute bargain.
You're getting 35 years of high-level Wall Street experience, contacts, and connections all in this one package.
If you can't see the value in trading side by side with a proven guru that's made his clients millions of dollars, no problem.
You can go back to getting advice from some "expert" who's never managed any money, never worked anywhere near Wall Street, and whose only background in finance is their degree from some community college.
But if you're tired of doing what you've always been doing, if you're tired of being on the outside looking in, and if you want to learn how the insiders on Wall Street really make money...
Then I encourage you to act now.
Plus, acting right now means you won't have to pay $3,000.
Here's the deal...
Instead of the full $3,000 price tag, you can claim your seat today for only $1,499!
That's a 50% discount on a year's worth of trades.
And it's a steal considering that access to Charles' Rolodex alone is worth millions of dollars.
But this is an exclusive offer that's only available for a limited amount of time.
Charles only wants to work with a small number of folks — folks who are serious about working side by side with a true Wall Street insider.
So, we're limiting access to Insider Alert to just 500 people today.
It's first come, first served. So, if you don't act now, you'll risk missing out.
Originally, Charles wanted to limit access to just 100 investors at $10,000 per slot...
But I convinced him that we're doing this to help regular folks in becoming wealthy — not to help the rich in getting richer.
But when the limit of 500 is hit, we'll shut down this offer.
And it might never be available again.
This limit ensures that only the most committed investors will reap the rewards of Charles' time and effort.
Because we've had an issue with this in the past...
Some people sign up, collect the free report, profit from the picks, and then call for a refund.
We're committed to giving the best investment research in the world to our subscribers, and this isn't fair to them.
That's why we have one rule today for this discounted price: All sales are final.
We understand that this is a deal-breaker for some people. And that's okay.
Insider Alert isn't for everyone.
But if you'd like a proven guru in your corner who gives you the chance to make 1,000% or more over the next 12 months...
Sign up now, and you'll get Charles' new report: "The $7 Trillion Secret."
Plus, you'll get access to his entire portfolio, which details every single one of his blockbuster picks.
Every week, you'll receive a detailed update. And in it, you learn at what price to buy the companies, how much you stand to make, and most importantly, when to sell...
Plus, the moment that Charles decides to add or sell another company in the portfolio, you'll receive an email that alerts you to the situation.
So, I think you'll find that Charles Mizrahi's Insider Alert is more than worth its price...
As one of Charles' readers Steve A. says:
I had subscriptions to 3 or 4 other investment advisory letters at the time I subscribed to your Insider Alert, which was a leap of faith as it was the most expensive letter I had ever purchased, but I liked the concept. I have since dropped the subscriptions to the other investment letters except one and continue to subscribe to Insider Alert because it has made me money... $68,800 in gains from Insider Alert.
Another reader retiree Mark B. says: "$120,000 in profits is a conservative estimate."
And remember, Insider Alert has a special performance-based guarantee...
CHARLES' GUARANTEE
If Charles' track record doesn't give you the chance to close a minimum of 10 winning trades over the next the next 12 months, just let my team know, and we'll give you a second year of Insider Alert — free of charge.
All you have to do to get started is click the button below.
You're not making any commitments by doing so.
I'll give you the chance to get one final look at everything you're receiving today.
But I'm expecting the 500 spots available to fill up fast.
Angel Publishing has over 949,000 readers. And they could all be watching this summit right now.
And if that's the case, only 0.1% of the audience will be allowed to join Insider Alert today.
If you're one of the lucky ones, you'll be able to get started within a matter of minutes.
I'm confident you'll find joining Insider Alert to be the best financial move that you'll ever make.
Thank you for your time today.